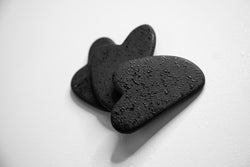 The handmade gua sha primarily serve the following functions:

- Improves fine lines and wrinkles. Ideal for facial massages.
- Relieves muscle and joint pains.
- Promotes lymphatic drainage.
- Promote blood circulation.
- Men's hair regrowth by massaging side of head
- Skin sculpting

Makes for an ideal gift for men and women under $20 and also for yourself.

Noticeable difference weeks after initial use.
Frequently Asked Questions